Overview:
Dispatched to NOT a problem ... 600 - Good Intent.
NFIRS - NFIRS Codes - NFIRS Examples
'Good Intent' Incident Coding
How do I code an good intent incident?
NFIRS 5.0 coding is "how turned out" not "how toned out". An incident may be toned as powerlines down but upon arrival/investigation it might be telephone or communications lines; no risk/no danger. The incident was dispatched due to 600 - Good Intent, other. How it is toned does not matter for NFIRS coding, it is how it turns out.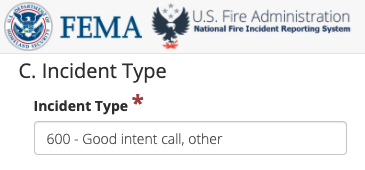 Wrong Location, No Emergency Found Group
These are some of the values in the wrong location / no incident found group:
621 - Wrong Location (e.g. maybe wrong fire district.)
622 - No Incident Found On Arrival At Dispatch Address
600 - Good intent call, other.
Good Intent verses Unable To Locate (UTL)
A good intent incident is when the fire department are dispatched to a scene but upon arrival and investigation the scene is not the incident type reported, and is no threat/problem. However unable to locate is when nothing can be found at or in the area of the incident report. Use unable to locate (UTL) when nothing can be found.
Good Intent verses Wrong Location
Good intent is when dispatched to an scene that, upon investigation, wasn't the danger or problem that the reporting party was concerned about. However, if dispatched but nothing is found, perhaps because the scene was actually in a neighboring district, then use wrong location
Need other NFIRS coding help?
See more NFIRS coding examples for quick "how to" coding snippets:
For more information see the NFIRS / eNFIRS training and contact Responserack if you would like more help with NFIRS or eNFIRS.