Firefighter-friendly

Fire Department Software

Incident reporting to submit your NFIRS reports, and maintain your various department records. Responserack fits your department's needs - painlessly - without breaking your budget.
Middle-of-the-Night
Simple

:

Designed after decades of working with volunteer firefighters, and developed for volunteer fire departments. Contact us to learn more, and/or check-out a demonstration or free trial.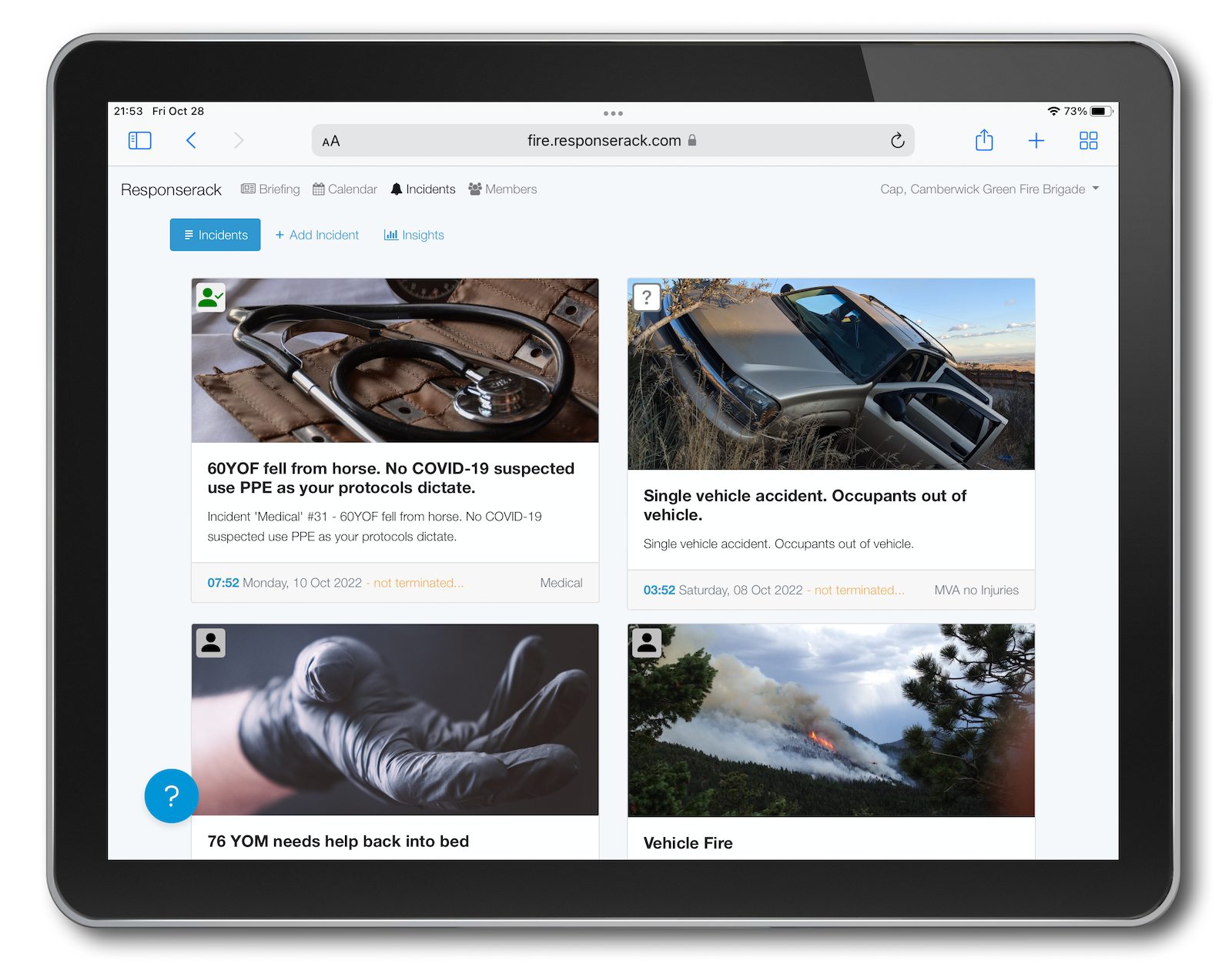 Join the modern Volunteer Fire Departments...
Who are reducing their administration workload, and engaging their firefighters:
Getting up/running and

NFIRS compliant in less than a week

.
Moving to

paperless

, and engaging their firefighters in real time.
Saving time, money, and

effort

getting organized.

Switching from legacy Fire RMSs

.
Working for Volunteer Fire Departments
Responserack is working for volunteer fire departments across the United States - from coast to coast, and border to border. From fire companies with less than 50 incidents a year to fire & rescue districts with hundreds. From rural departments with 15 firefighters and a single station to mountain departments with multiple stations, and over 50 firefighters. Responserack works for volunteer fire departments.
Customer Testimonials for Responserack
Fire departments, fire protection districts and fire companies all over the country are switching to Responserack, both from paper and from legacy Fire RMSs.
I love the fact that the report is practically complete before I look at it. With Responserack the firefighters are completing the bulk of reports, and Responserack tells me if there are any remaining NFIRS needs.
We love that we can complete attendance using our phones, while still on scene. If command is not too busy, the report can be mostly done before returning to quarters.
Responserack is so intuitively simple and easy to use.
Reports are so powerful. They give us wonderful insights into our incident, training and member data.
We are a newly formed fire protection district and Responserack allows us to submit our NFIRS, as required. Better still, with detailed attendance records we can now, for the first time, provide stipends to our firefighters.
As a volunteer administrator, Responserack allows me to keep our department records complete and orderly. I can manage and complete our department's incident reports after fire officers initiate them.