Do it yourself … "CAD Dispatch Notifications?"
We are a mountain volunteer department where we respond to incidents from home. We don't do shifts. With limited cellular service in most areas I was long against tools that showed I am responding thinking "wait 5 minutes and all who are coming will be on radio at station … no need to take time for some system, just go to the station."
That is still true, but I've changed my thinking somewhat, in the main because we now have a full-time Chief at station. Knowing who is coming (5 minutes sooner) allows assignment planning, evaluation for mutual aid, and more (based on who is "In".) Providing incident command (Chief or most senior officer) this information is helpful.
We created our own 'Who Is Responding?' do-it-yourself (at no cost) using GroupMe - a group text messaging app.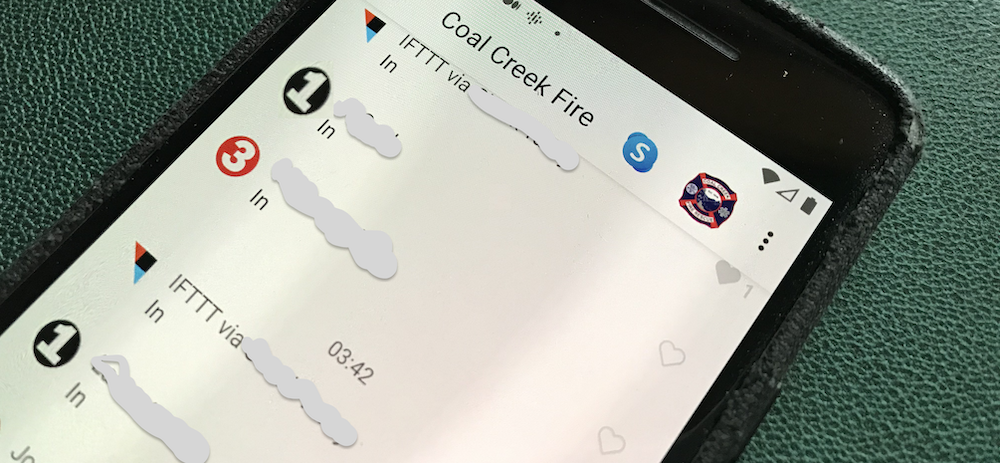 We selected GroupMe (a free to use group messaging tool from Skype, owned by Microsoft) because it worked for basic texting (SMS) as well as on WiFi. Our responders all have a mobile phone, even if they don't have a smart phone, so all can participate in this group. GroupMe also allows us to create the group, invite people, and manage who can participate (as people join and retire from the department).
Responding: "In"
When a call drops our Firefighters simply type "In" - nothing more - into the group, from home. That allows us to know who is responding, by name. We created a set of numbered icons so firefighters can easily scan to see responders at their station. We've found that many of us review the response list, not just Command.
Some of the benefits:
We know which officers are coming, and we know which stations will be opening. Trucks / assignments can be planned.
We know who is at a station, e.g. if trainees are alone, or what level of trained resources we have coming. EMT-B, EMT-P, EMR, etc.
In times of COVID-19 we know which station should "Tyvek up" for universal precaution PPE.
Responders slightly further from a station are less likely to miss the first out rig. (Crews can wait a few more seconds and/or load that responder's gear.)
On late night medical calls we know who is in the field, and if any station has a single responder.
Being "free format" we can communicate other incident messages, if needed, e.g. truck blocking highway, etc.
We set up a second group for our auxillary members to communicate around provisions during a larger/longer incident.
Note on discipline; allowing success …
We enforce that this group is NOT for chatter, it is for responding "In" only. Given that we have 50 to 60 people on the group we don't do "Out" and we don't do any other non-incident chatter. We want people to monitor this group (and enable notifications) and any chatter is somebody else's noise. We do allow incident related updates (i.e. call canceled) and "In - delayed 10 minutes" but it is all incident information all the time, nothing else. We do this because we've seen others try this solution and fail, due to chatter.
Our firefighters don't use GroupMe for anything else but this. We do use Google Groups, Slack and others for other member communications, but we keep GroupMe purely for incident response.
We are about a couple of years in and with discipline and a few reminders we are finding this a good solution. It takes time (so patience) to build, but it is proving very helpful.
Pro Tips
We found it easier for our membership to sign up for GroupMe from their mobile device when they were in any location that they could receive SMS text messaging (i.e cellular not WiFi.) Attempting sign-up via computer was problematic in comparison, avoid it when you can. Once the member has signed up, then share the invitation link for the group.
Responserack
Responserack can auto-populate GroupMe from CAD dispatches, and this works well. Having incident type and response information in the group both places a separator between incidents (so one doesn't confused last response with this) and also can send a notification to the mobile device, which can be the first notifications a member receives.
Do It Yourself
We've created a number of do-it-yourself technologies for dispatch, for response and for other benefits. I'll share them as do-it-yourself technology.